Performance of our Racehorses
Winners to runners – 14.67%
Top 3 finish – 38%
| | | | |
| --- | --- | --- | --- |
| 2022/2023 | 1st | 2nd | 3rd |
| 150 | 22 | 19 | 16 |
Receive the latest news from ATB
ATB-TV as a free service for our owners and readers to provide a more personal touch, especially for those owners that live interstate or overseas.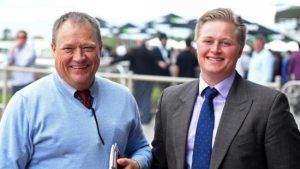 Tony lives and breathes thoroughbred racing and has done so from a young age.
As an apprentice jockey in 1975 McEvoy rode more than 100 winners over a short period of time before his weight got away from him. Coming from a riding background has really helped Tony hone his skills as a trainer and continues to attribute to his ability to find quality horses.
McEvoy Mitchell Racing was formed in 2011 when Tony was approached by Melbourne businessman Wayne Mitchell to become his partner and Head Trainer of Lindsay Park 'Raceside', now known as 'Kildalton Park'.
The stables success has been building since then and all strategies put in to place are proving to pay dividends.
In recent times, Tony's son Calvin has had his status elevated as joint trainer of the stable.
In an exciting development, the team will setup a 100-horse complex at the Ballarat racecourse, with operations hoping to commence in late 2020.