Performance of our Racehorses
Winners to runners – 14.67%
Top 3 finish – 38%
| | | | |
| --- | --- | --- | --- |
| 2022/2023 | 1st | 2nd | 3rd |
| 150 | 22 | 19 | 16 |
Receive the latest news from ATB
ATB-TV as a free service for our owners and readers to provide a more personal touch, especially for those owners that live interstate or overseas.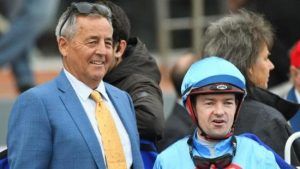 Lindsey Smith Racing has in recent times set up stables at the coastal city of Warrnambool.
Operating in conjunction with his original base in Western Australia, Smith is an old school trainer who loves preparing his horses around heavy sand training and the beach.
Fitness foundations are built in the deep sand to help alleviate the consistent pressure on horse's legs through normal training methods on firmer surfaces.
Smith who has trained at a high level for many years in the west, quickly achieved great results in the short time he has been in Victoria.
Scales Of Justice, Blackheart Bart and Traps For Fools are names that racegoers are familiar with that have had the Smith polish applied for stakes level success.
An affable chap, Smith is very welcoming with his media commitments and communications to owners.