About Thoroughbred Racehorses
At Australian Thoroughbred Bloodstock, horse training and racehorse trainers are crucial to the success of the Thoroughbred.
Once our horses have completed their spell they are transported to our pre-trainers. Upon arrival the horse will be shod by the stable farrier with work plates which usually last around four weeks and the horse will be drenched to ensure no worms are present.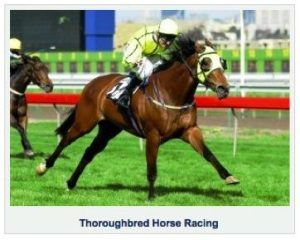 When our horses are placed back into work it normally takes ten weeks of training before they are ready to start trialling. Most horses will have two trials before racing thus an elapsed time from leaving stud to appearing on race day will be around 10-12 weeks.
Horses are delivered to the pre-trainers establishment with good condition on them. They will generally be carrying a little extra weight as this will give the trainer something to work with throughout the preparation.
All trainers vary their pre training program and work in well with our pre trainers. In the first four weeks of pre training the horse will slowly build up their fitness and turn fat into muscle. The horse will mainly spend the first four weeks trotting and cantering. This slow work will help strengthen tendons and ligaments and also increase bone density. The horse may also spend time on an electric walking machine, treadmill or in a pool (if the trainer has these facilities).
Upon completion at the pre trainers the horse then heads to the trainer where workload and intensity are increased to build on base fitness. This is done by increasing the work in distance and allowed to really stride, say the last 200m in a gallop. They continue this build up until they have the fitness to run 800m at race speed, give or take a few seconds. For sprinters they can run between 44-48 seconds in their last 800m, so at this stage the horse maybe running 800m in 46 to 50 seconds.
Once the trainer believes that the horse is fit and well, it will be often given an unofficial trial (often referred to as a jumpout) or it may go to an official trial to gauge where the horse is at from an ability and fitness perspective. After trailing the horse once or twice, the horse is generally entered into a race.
Obviously, sprinters and stayers are trained differently, trainers may or may not publicly trial horses before racing. In Victoria there is a push for all 2yr olds to publicly trial before they race for the benefit of the punters, not necessarily the owners.
Visit our For Sale section and you could be involved in a quality thoroughbred with us with a trainer of your choice.
Breaking In Process:
Pre-Training Process:
Points of The Horse