Performance of our Racehorses
Winners to runners – 14.67%
Top 3 finish – 38%
| | | | |
| --- | --- | --- | --- |
| 2022/2023 | 1st | 2nd | 3rd |
| 150 | 22 | 19 | 16 |
Receive the latest news from ATB
ATB-TV as a free service for our owners and readers to provide a more personal touch, especially for those owners that live interstate or overseas.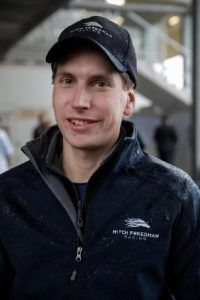 Mitch Freedman took a slight detour to his father and grandfather but racing was always in his blood.
Freedman's grandfather was a bookmaker and his father worked for him, meaning Mitchell was always around horses and racing from a young age.
Mitch worked for some astute Victorian minds in the period before getting his licence, spending time with Kathryn and Craig Durden, Andrew Payne and Dan O'Sullivan before starting a lengthy period working in Warrnambool
Mitch also travelled overseas to gain some insight into European training techniques with top trainers David Simcock and Andrew Balding, which when added to his local education, gave Freedman a strong training philosophy that he follows to prepare his team.
Freedman and his wife Jenna, the daughter of the late highly respected Warrnambool horseman Mark Primmer, run the stable together with the help of close family and terrific staff that loves the horses.
Watch a video interview by clicking on the link below: