Performance of our Racehorses
Winners to runners – 14.67%
Top 3 finish – 38%
| | | | |
| --- | --- | --- | --- |
| 2022/2023 | 1st | 2nd | 3rd |
| 150 | 22 | 19 | 16 |
Receive the latest news from ATB
ATB-TV as a free service for our owners and readers to provide a more personal touch, especially for those owners that live interstate or overseas.
Ciaron Maher & David Eustace (VIC)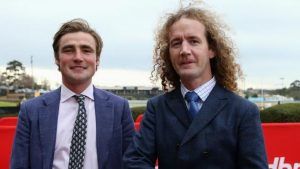 Cairon Maher and David Eustace join the ATB training team for the 2018/19 season. At just 37 years of age, Ciaron has established himself as a rare talent in Australian racing. Ciaron tasted Group 1 glory at just 26 years old and has consistently built upon that success to now having the best winners-to-runners strike rate in Victoria. Ciaron's rare gift for preparing his horses to peak at the right time is born from his attention to detail and individual approach to each horse.
David Eustace joined Ciaron Maher Racing in mid-2016 and was performing the role of Assistant Trainer prior to the announcement that he would be training in partnership with Ciaron recently.
"He has proven himself as a hard-working professional, learning the Ciaron Maher Racing way but also bringing new ideas to the fore."
"David has been instrumental in the growth and success of the stable over the past 12 months," Maher told Racing.com.
ATB welcome the Caulfield-based team of Maher and Eustace.