Performance of our Racehorses
Winners to runners – 14.67%
Top 3 finish – 38%
| | | | |
| --- | --- | --- | --- |
| 2022/2023 | 1st | 2nd | 3rd |
| 150 | 22 | 19 | 16 |
Receive the latest news from ATB
ATB-TV as a free service for our owners and readers to provide a more personal touch, especially for those owners that live interstate or overseas.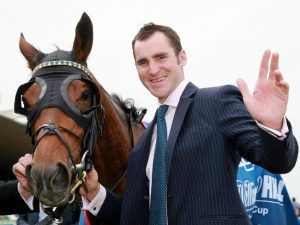 An exciting new chapter of Archie Alexander's training career commenced on July 1 2014 when Alexander Racing opened its doors in Ballarat.
With the experience gained under Nicky Henderson, Alec Head, Criquette Head-Maarek, Todd Pletcher, Mark Johnston, Aidan O'Brien and Robert Hickmott (with the Lloyd Williams team), Archie now has completed his 'apprenticeship' and is ready to mix the methods he's learned in Europe and Australia to create a winning formula.
In the peaceful surrounds at Ballarat, which Archie believes is ideal for a racehorse, Archie has the confidence in his ability to compete with the best.
Click on the link below for a Video Profile: