Performance of our Racehorses
Winners to runners – 14.67%
Top 3 finish – 38%
| | | | |
| --- | --- | --- | --- |
| 2022/2023 | 1st | 2nd | 3rd |
| 150 | 22 | 19 | 16 |
Receive the latest news from ATB
ATB-TV as a free service for our owners and readers to provide a more personal touch, especially for those owners that live interstate or overseas.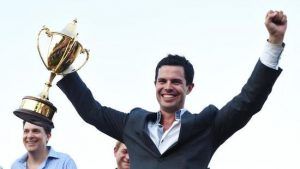 Michael grew up in a racing family and began his thoroughbred training career in August 2006 where he obtained his trainer's license directly after his 18th birthday. It was an inevitable career step following in the footsteps of his father John Hickmott, a successful for trainer for the past 2 decades in Victoria and South Australia and his older brother Robert, a multiple Group 1 winning trainer of the Melbourne Cup, Sydney Cup & Caulfield Cup who is the head trainer of the Lloyd Williams Racing operation based out of Macedon Lodge, Victoria.
Michael began training and had excellent success with his horses in Darwin, the 2007 and 2009 Darwin Cup victories of General Market and Activation being highlights. After analysing his business options, August 2011 saw an exciting new change made with Michael transferring to South Australia.
Based at Murray Bridge, he has foresight and a fresh approach to his career in racing. His motivation is that of a professional businessman, who identifies his role as a business operator as well as a trainer. His progressive insight is a fresh approach where he strategizes to obtain the maximum return for his client. Careful placement and selection is paramount in his success. He has an eye for talent and gaining returns for effort.
Michael looks forward to a continued career with the thoroughbred and has a vast and expanding education in the Austral Asian racing industry. Following trends, utilizing a network of professional services and a transparent relationship with his clients are commending traits. Michael looks forward to his future in racing and providing a unique service to his clients.