Our Trainers
---
ARCHIE ALEXANDER
An exciting new chapter of Archie Alexander's training career commenced on July 1 2014 when Alexander Racing opened its doors in Ballarat.
With the experience gained under Nicky Henderson, Alec Head, Criquette Head-Maarek, Todd Pletcher, Mark Johnston, Aidan O'Brien and Robert Hickmott (with the Lloyd Williams team), Archie now has completed his 'apprenticeship' and is ready to mix the methods he's learned in Europe and Australia to create a winning formula.
In the peaceful surrounds at Ballarat, which Archie believes is ideal for a racehorse, Archie has the confidence in his ability to compete with the best.
---
CIARON MAHER & DAVID EUSTACE
Cairon Maher and David Eustace join the ATB training team for the 2018/19 season. At just 37 years of age, Ciaron has established himself as a rare talent in Australian racing. Ciaron tasted Group 1 glory at just 26 years old and has consistently built upon that success to now having the best winners-to-runners strike rate in Victoria. Ciaron's rare gift for preparing his horses to peak at the right time is born from his attention to detail and individual approach to each horse.
David Eustace joined Ciaron Maher Racing in mid-2016 and was performing the role of Assistant Trainer prior to the announcement that he would be training in partnership with Ciaron recently.
"He has proven himself as a hard-working professional, learning the Ciaron Maher Racing way but also bringing new ideas to the fore."
"David has been instrumental in the growth and success of the stable over the past 12 months," Maher told Racing.com.
ATB welcome the Caulfield-based team of Maher and Eustace.
---
DANIEL BOWMAN
Daniel is a young trainer that has taken big strides in his first few years as a trainer.
Based at Wangoom (near Warrnambool) Daniel gained plenty of experience having worked under names like Weir, Hayes, McEvoy as well as other Warrnambool trainers Ciaron Maher and Jarrod McLean.
With the beach at the stable's disposal the Bowman team are able to provide plenty of variety for their racehorses. The farm also provides a relaxed and quiet atmosphere for the horses – based about five minutes from the Warrnambool racetrack and ten minutes from the beach.
Daniel's final part of his 'apprenticeship' prior to gaining his full license in 2014 was as foreman for the powerful Weir stable at the Bool. With horses like Puissance De Lune, Signoff, Trust In A Gust, May's Dream, Akzar as well as ATB champs in Platelet and Taiyoo under his care, winning results came thick and fast as the Weir domination gained momentum.
Aside from racing Daniel's focus is on his family, including his son Charlie and daughter Annie. Daniel is supported by his wife, Denita, who is not only a fantastic homemaker but is the behind the scenes expert in running the business. With over 10 years experience in the racing industry Denita, happily assists in the many varied duties required in running a racing stable.
Daniel thoroughly enjoys his role of being a horse trainer but the ultimate highlight of that role is sharing the race day experience with his owners.
---
DANNY O'BRIEN
Over the past two decades, 2019 Melbourne Cup (Vow And Declare), winning trainer Danny O'Brien has proven himself to be one of Australia's finest horseman by continually produces outstanding results. His ability to place horses ideally has ensured that he has maintained a strike rate to make him the envy of his competitors.
From an early age, Danny was destined to be involved with horses. He was raised on a Kyabram property, which bred and reared racehorses, and Danny's love of the animal commenced as a child.
After completing his schooling – as a board at Xavier College, followed by a law and economics degree at Melbourne University – Danny set about chasing his passion.
His thirst for knowledge and passion of horses continued as he worked alongside some of Australia's top trainers. He worked for master trainer Bart Cummings before taking up the foreman's position with Caulfield trainer James Riley.
A true horseman, with a "hands on" approach, Danny secured his training licence and his career commenced at Epsom in 1995 at the age of 25.
Today his training bases are at Flemington and in more recent times at Barwon Heads where he has developed a wonderful 'European' type centre which includes the use of Thirteenth Beach along the bordering coastline.
---
LINDSEY SMITH
Lindsey Smith Racing has in recent times set up stables at the coastal city of Warrnambool.
Operating in conjunction with his original base in Western Australia, Smith is an old school trainer who loves preparing his horses around heavy sand training and the beach.
Fitness foundations are built in the deep sand to help alleviate the consistent pressure on horse's legs through normal training methods on firmer surfaces.
Smith who has trained at a high level for many years in the west, quickly achieved great results in the short time he has been in Victoria.
Scales Of Justice, Blackheart Bart and Traps For Fools are names that racegoers are familiar with that have had the Smith polish applied for stakes level success.
An affable chap, Smith is very welcoming with his media commitments and communications to owners.
---
MATT CUMANI
Newmarket born and bred, the son of revered English Derby winner, Luca Cumani, and brother to renown racing expert & commentator, Francesca, Matt has racing in his blood.
Matt's approach seamlessly blends the best of old school horsemanship with his own take on globally-informed techniques and up-to-the-minute industry advancements.
Having made his mark in the frenetic worlds of finance and British politics respectively it wasn't long before Matt inevitably returned to the very passion he was born to pursue.
Matt boasts ten years of varied and intensive experience under the tutelage of some of the world's most celebrated trainers, among them, Todd Pletcher, Paddy Gallagher, Chris Waller, Ed Dunlop, and of course, Luca Cumani.
It is this dynamic range of exposure and learned techniques that grants Matt a unique breadth and comprehensive depth unrivalled in the industry. We welcome Matt to the ATB team.
---
MATTHEW WILLIAMS
Matthew Williams has been working with horses for the past 20 years, and more formally, training horses for the past 15 years. Located at Wangoom Lodge, Matthew has established an exceptional training complex that accommodates up to 40 horses in training, with an additional agistment property housing up to 40 horses. With the availability of the local beaches, Matthew was initially given the opportunity, through Brian Mayfeild Smith, Quinton Scott, Tony Noonan and Darren Weir to rehabilitate injured horses.
With successful results the business grew to the point where some of the country's most talented gallopers come to freshen up and rejuvenate before returning for their next racing campaign. Over several years Matthew built a strong working relationship with trainers such as Brian Mayfield-Smith and Colin Little, consistently having many of their top horses in his care.
Over the last few years Matthew has branched out into the training industry in his own right, with a team of around 40 horses in work. Australian Thoroughbred Bloodstock have come on board and had many winners since joing the team. Horses like Thundahar, Sera Ceilo, Dashatin, Group winner Uxorious and the duel stakes placed Melbourne Cup Day winning Flying Tessie have given Matthew metropolitan success, with Thundahar taking out the Yarra Glen cup in 2004. Matthew has trained over 100 winners, several being at the Warrnambool May Cup Carnival.
---
MICHAEL HICKMOTT
Michael grew up in a racing family and began his thoroughbred training career in August 2006 where he obtained his trainer's license directly after his 18th birthday. It was an inevitable career step following in the footsteps of his father John Hickmott, a successful for trainer for the past 2 decades in Victoria and South Australia and his older brother Robert, a multiple Group 1 winning trainer of the Melbourne Cup, Sydney Cup & Caulfield Cup who is the head trainer of the Lloyd Williams Racing operation based out of Macedon Lodge, Victoria.
Michael began training and had excellent success with his horses in Darwin, the 2007 and 2009 Darwin Cup victories of General Market and Activation being highlights. After analysing his business options, August 2011 saw an exciting new change made with Michael transferring to South Australia.
Based at Murray Bridge, he has foresight and a fresh approach to his career in racing. His motivation is that of a professional businessman, who identifies his role as a business operator as well as a trainer. His progressive insight is a fresh approach where he strategizes to obtain the maximum return for his client. Careful placement and selection is paramount in his success. He has an eye for talent and gaining returns for effort.
Michael looks forward to a continued career with the thoroughbred and has a vast and expanding education in the Austral Asian racing industry. Following trends, utilizing a network of professional services and a transparent relationship with his clients are commending traits. Michael looks forward to his future in racing and providing a unique service to his clients.
---
MICK PRICE & MICHAEL KENT JNR
Since taking out his license in 1991, Mick Price has firmly established himself as one of the leading racehorse trainers in Australia.
In 2003 Mick trained the trifecta in the Group 3 Blue Diamond Preview with Halibery, Gaelic Princess and Roedean, while World Peace took out the race for the stable in 2004.
Mick kept his fantastic record with two-year-olds intact by winning both the colts and fillies divisions of the Blue Diamond Preludes in 2005 with Perfectly Ready and Doubting.
In 2007 he continued his stakes winning trend by taking out the Group 1 Underwood Stakes with Rubiscent, the Group 2 Sandown Guineas with Schilling and the Group 3 Sandown Stakes with Gotta Have Heart, just to name a few.
In 2008/2009 the season started off in terrific style with Light Fantastic winning the Group 2 JJ Liston Stakes. The South Yarra Stakes Group 3 was won by Vivacious Spirit. Group 1 New Zealander Alamosa won the Group 1 Toorak Hcp and Damselfly won the Group 3 Thoroughbred Club. In total, Mick won six Group 1 races, five Group 2 events, five Group 3 events and six Listed races for the season among his massive total of 124 winners for the racing year.
The 2009/2010 season saw Mick train his 16th Group 1 winner with Velocitea taking out the Goodwood Handicap.
Group One Blue Diamond success was around the corner in 2011/2012 when a smart filly called Samaready came out and won the Group Three Blue Diamond Preview. The filly then backed up and smashed her rivals in the Group One 2012 Blue Diamond. The More Than Ready filly then went on to complete a winning hat trick taking out the Group Two Reisling Stakes at Rosehill. Other Stakes success throughout this season included multiple wins to Instinction and Malasun.
Price has prepared more than 100 winners a season for the past 10 seasons, a position that puts him in rare company.
---
MITCH FREEDMAN
Mitch Freedman took a slight detour to his father and grandfather but racing was always in his blood.
Freedman's grandfather was a bookmaker and his father worked for him, meaning Mitchell was always around horses and racing from a young age.
Mitch worked for some astute Victorian minds in the period before getting his licence, spending time with Kathryn and Craig Durden, Andrew Payne and Dan O'Sullivan before starting a lengthy period working in Warrnambool
Mitch also travelled overseas to gain some insight into European training techniques with top trainers David Simcock and Andrew Balding, which when added to his local education, gave Freedman a strong training philosophy that he follows to prepare his team.
Freedman and his wife Jenna, the daughter of the late highly respected Warrnambool horseman Mark Primmer, run the stable together with the help of close family and terrific staff that loves the horses.
---
PAUL PREUSKER
First started in 1996 Paul Preusker Racing is located in McKenzie Creek, near Horsham Victoria. situated on 44 acres, it is home to up to 35 horses in training at any given time. Our employees all pride themselves on being dedicated to the training and to maintaining the health and wellbeing of our horses on every level. We offer a range of services to benefit every equine athlete entering our stable, ontop of Race Training we offer Pretraining, Breaking and Rehabilitation.
---
PHILLIP STOKES
Phillip Stokes Racing is a dual-state operation with stables on-course at Morphettville and Pakenham, giving the stable the luxury of placing runners in either State to give them every opportunity to be metropolitan competitive.
Stokes has a special ability to get horses ready for the moment, his local and international knowledge has become invaluable in the way he approaches his training methods and firmly believes in having a hands-on approach when it comes to the horses in his care.
He won four straight South Australian State Trainer Premierships from 2012/13 – 2016/17.
Over the years he has built a fantastic reputation for guiding fillies to black type race success and his open mind with his horses allows the stable to tackle any race across Australia. If the horses are going well enough, Phillip and his team will travel them to their best advantage.
Phillip Stokes Racing is backed by a committed team of staff dedicated to help provide the best results for their clients.
---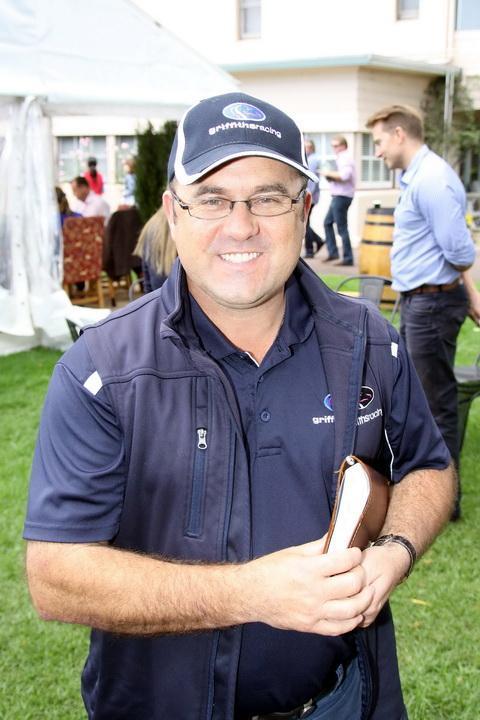 ROBBIE GRIFFITHS
Robbie was fortunate to be born into the Thoroughbred industry and destined to be involved in some way or another. He completed a successful apprenticeship as a jockey riding in excess of 250 winners both on metropolitan and provincial racetracks and included riding for the likes of the Late Colin Hayes, Bart Cummings, Lee Freedman. It was as a result of this that Robbie was able to outride his apprentice claim in his first 2 years of riding.
Robbie's transition to Training commenced soon after he became foreman for Tony Vasil. Robbie spent 12 months in this role before spending time overseas observing leading European trainers training techniques. Robbie obtained his trainer's license in 1991 and has earned the reputation as an innovative and successful trainer by achieving success in Group and Listed races.
Metropolitan success was achieved with the likes of Dandy Kid, (holds the Moonee Valley record for most flat wins at the course), Confederate Kid, Beltrois, not to mention the Group 1 placed Cocinero, Solar Antiquity & Cancanelle. Recent times have see the likes of Danzylum, Avionics, Mr Riggs, Dash to Viz.
Robbie has also won leading Super VOBIS trainer of the year for consecutive years.
---
SAAB HASAN
"I always maintain a horse doesn't know what a $50 note is. If you give a horse love and give them passion, they will respond" – Saab Hasan.
Saab's mantra comes from his extraordinary path to becoming a trainer, which started early in his childhood in the Turkish side of Cyprus.
War forced Hasan and his family to head to Australia for a better life but Saab had already told his grandfather he would become a horse trainer, despite not laying his hands on a horse on the family farm.
Saab's family relocated to Australia in time for the youngster to see Van Der Hum win the 1976 Melbourne Cup in torrential rain but the newly-arrived Hasan was hooked on the great sport that is thoroughbred racing.
Saab tried every stable at Flemington at the time looking for a job in racing before Mick Cerchi gave the 15-year-old his first break in the game.
Hasan learned from Cerchi and other outstanding horsemen such as John Sadler, David Hayes and the master trainer Bart Cummings before branching out on his own.
Saab is now based at the famous Chiquita Lodge stables at Flemington where his horses get the best of everything at the world class training centre.
---
TONY MARTIN (IRE)
A top class amateur rider, Tony Martin has been considered one of the shrewdest trainers in Ireland for well over a decade. Martin has earned a reputation for getting the very best out of his horses, regardless of the level they operate at.
But behind the caricature, and the blunt speaking, there are plenty professionals within racing who rate Martin's ability to subtly extract the maximum potential out of any horse in terms of the very best there is – flat or jumps. The difference now is in the raw material he gets to work with.
Tony Martin saddled his first ever runner in the 2016 Emirates Melbourne cup at Flemington.
Heartbreak City was inches away from becoming the 3rd Irish trained winner of Australia's most famous horse race and came into the race after a stunning win in York's Ebor handicap in August.
Martin himself comes to Australia with a reputation as a smart trainer with an eye to beating the bookmakers.
''I think that can be a trainer's job,'' Martin said. ''It's whatever owners want. Some owners just want their horse to run every other day and are not interested in the gambling.
''But most of my crew like a little punt.''
The County Meath handler was proud in defeat after the six-year-old gelding, winner of the Ebor at York in the summer, came so close in the big race at Flemington.
But Martin now wants to attempt to go one place better in 2017 with a horse who did brilliantly well to even get in contention from a wide draw in stall 23.
---
TONY AND CALVIN McEVOY
Tony lives and breathes thoroughbred racing and has done so from a young age.
As an apprentice jockey in 1975 McEvoy rode more than 100 winners over a short period of time before his weight got away from him. Coming from a riding background has really helped Tony hone his skills as a trainer and continues to attribute to his ability to find quality horses.
McEvoy Mitchell Racing was formed in 2011 when Tony was approached by Melbourne businessman Wayne Mitchell to become his partner and Head Trainer of Lindsay Park 'Raceside', now known as 'Kildalton Park'.
The stables success has been building since then and all strategies put in to place are proving to pay dividends.
In recent times, Tony's son Calvin has had his status elevated as joint trainer of the stable.
In an exciting development, the team will setup a 100-horse complex at the Ballarat racecourse, with operations hoping to commence in late 2020.