About ATB Racehorse Shares
Australian Thoroughbred Bloodstock P/L (ASIC FSL: 255488) was established in 1997 by Darren and Elizabeth Dance after they had spent many years successfully racing horses in Victoria and South Australia, including the dual Group 1 winner Mookta.
Australian Thoroughbred Bloodstock is based in central Victoria, just 50kms from Geelong and Ballarat on an 85 acre stud at Manningtree Park.
It is here that horses like the group winners Skewiff and True Courser were born, raised and later syndicated and went on to win at the highest level.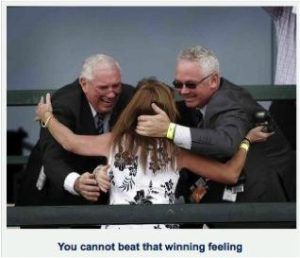 Our racehorse trainers:
ATB provides the opportunity for you to buy racehorse shares under the guidance of leading trainers including Ciaron Maher & David Eustace, Paul Preusker, Matthew Williams, Matt Cumani, Archie Alexander, Robbie Griffiths, Michael Hickmott, Damien Batters, Daniel Bowman, Mitch Freedman, Mick Price & Michael Kent Jnr, Pat Ryan Jnr, Andrew Bobbin, Tom Dabernig, Phillip Stokes and Saab Hasan. We work with trainers that we class as real horseman; they have history as strappers, jockeys, farriers or breakers before they became trainers. 
Most importantly they love horses and racing – as do we fully dedicated seven days per week to the management and running of Manningtree Park and Australian Thoroughbred Bloodstock. We personally feed all of the horses that reside at Manningtree Park, whether they are pregnant mares, new born foals, weanlings, yearlings or our racehorses that are spelling. Manningtree Park only houses horses that we own outright or race in partnership or syndication.
Preparing our horses to race:
We have an established system in place for our horses where their well being comes first.
All young horses are handled on a regular basis and educated from a young age, it's just like preschool for children, we prepare them for the future. Weanlings are taught to lead and introduced to our stables, round yard , walking machine and wash bay early in their life, so when they eventually arrive at the trainers complexes they adapt with ease. We get outstanding feedback from all of our trainers on how relaxed our horses are in the stable, what good eaters they are and what good bone they have.
We ensure that all horses on our stud are given the best quality feed and care available, they are drenched and have their feet trimmed by our farrier every five weeks.
We use Tyler Aitken to break our horses. He puts the polish on our young horses by teaching them balance and steering.
All yearlings are spelled after breaking in and then attend 4 weeks of pre-training to teach them barriers, pool, track and ties up, rounding off their education and they are then ready for the trainers.
Preparing young horses for racing is similar to us preparing to play football or any sport for that matter. We educate them about the environment and the rules and then we use pre-training like footballers use pre-season, to obtain fitness and strength to perform on game day. Some horses are just natural runners with early fast twitching muscle to run early, others are like ruckman, they are all arms and legs and need time and plenty of pre-training and spelling cycles to enable them to perform at their best when they are mature enough for their body to cope with it.
Our pre-trainers include Tyler Aitken (Coghills Creek) & Christina Jeffreys (Kyneton), both of which we trust  with their horsemanship and rate highly as people.
Selecting yearlings from the sales:
Each year, we secure yearlings from the major sales or privately from horse studs in Australia and New Zealand to syndicate into racehorse shares and race with our selected racehorse trainers. We are very selective on breeding/pedigree, body conformation and whom we purchase from. 
We are looking for superior breeds from proven breeding grounds. We strive to offer value for money and offer these horses to the public with a reasonable mark-up. We specialize in fillies as they have a residual value  to breeders – for example, Skewiff purchased at $20,000 – won $520,000 in prize money and was sold to a breeder at auction for $450,000.
Our success:
We have won Group 1 races with Mookta – prizemoney $800,000 (Oakleigh Plate and Newmarket Handicap), Skewiff – prizemoney $500,000 (Group 1 placed, Group 2 winner, Multiple Group 3 winner), Platelet – prizemoney $1.1million (The Goodwood & Sangster), True Courser – prizemoney $500,000 (Multiple Group 3 Winner) and many other Listed and metropolitan winners over the years. These include Rue Maple, Luckyi'mbarefoot, Yogi, Southern France, Crack The Code, Social Spin, Lonhspresso, Dandino, Bejeekers, Fitoussi, Sirius Suspect, Gowiththeheart, Khairesprit etc.
Our promise to you:
We will ensure that your horse receives the best care and is given every opportunity to perform at its peak for as long a period as possible and that you have the most rewarding and enjoyable experience in the world of thoroughbred racing.