Taiyoo Bowls The Field Over For A Hat Trick
Apr 03, 2014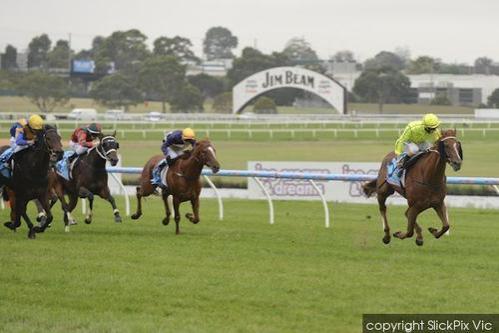 Taiyoo headed to Sporting Bet Park Sandown on Wednesday April 3rd with two wins under his girth and in form Trainer Darren Weir thought another win was possible and so did the punting market. Taiyoo went into the race a $3.10 favourite.
The Benchmark 78 Sportingbet Best Tote Plus 5% Handicap over 1800m and was worth $35,000 with a full field of 16 contesting the race. Taiyoo was weighted at 58kg but got a claim of 2kgs when gun apprentice Harry Coffey accepted the ride on the Haradasun gelding.
Taiyoo jumped away from barrier seven and was forced to lead as there were no others electing to go forward. Taiyoo raced keen early and showed us that he was out there to get the job done. Coming around the bend at the 700m mark the gelding pricked his ears and headed for home with the rest of the field two lengths away. Harry allowed the boy to slide off the fence 3 wide for better running. At the 300m mark Harry gave a swoosh of the reins and off they cruised to the winning post. It was a straight forward race and they went on to win by 3.5 lengths.
Post race Harry Coffey said "he was a bit worried when he got to the front because every plan that Darren gave me prior to the race leading wasn't one of them. The horse did it with his ears pricked and I thought it is no good taking the horse out of his comfort zone. I feel this horse ran the race by himself and at the 800m mark he pricked his ears ever further forward and slowly picked up the tempo by himself. Horses don't always do that so he's pretty smart. The horse is flying and a bit of D.K Weir polish keeps them up, and to turn up and do it week in week out or every two weeks it's a really good effort."
Harry is secretly hoping that Darren will step Taiyoo up in the grades to help keep his weight down so he can continue to ride and win on him!
ATB are thrill with Taiyoo's win and would like to congratulate fellow owners Bungan Street Thoroughbreds, Graeme & Linda Huddy, Darryn Peters and Wendy Gereaux.
There are still limited shares available in some quality yearlings that we have purchased this year. These can be found under our "For Sale" menu. If you would like to get involved and experience the thrill of winning please contact Darren on 0417 616 666 or email us and we'll get back to you.