2014 Warrnambool May Racing Carnival just seven weeks away
Mar 17, 2014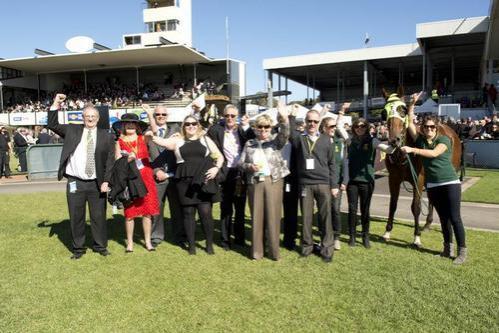 The countdown to the three-day Warrnambool May Racing Carnival is less than seven weeks away with the first stanza of the jumps season ready to go at the 'Bool today.
The Warrnambool Racing Club has been operating since 1858 and hosts up to twenty days of racing competition throughout the year.
The Warrnambool May Racing Carnival is held from Tuesday 29th April to Thursday 1st May 2014 at the Warrnambool Racecourse in Victoria.
All three days of the Carnival are action packed with quality racing, exceptional catering and great entertainment.
Today is the official the start of the season in Victoria and there has been plenty of activity behind the scenes.
In February the Ballarat Turf Club, with support from Racing Victoria and the Victorian State Government, opened a new state of the art jumps schooling lane.
The lane features modular hurdles and steeples offering trainers an opportunity to educate horses, improve jumping technique or to add diversity to a horses training program. Ballarat has a long history with jumps racing and in recent years top quality hurdlers Gotta Take Care and Tuscan Fire have come from the region and competed at the highest level.
Robert Smerdon, a native of Ballarat who also has stables at Caulfield will be looking to get his campaign off on a winning note with maiden jumper Royal Butler. The galloper is one of seven horses lining up in today's opening race of the season the $20,000 Bill Phillpot Maiden Hurdle (3217m).
Smerdon has engaged Steve Pateman, a six-time Tommy Corrigan medallist, to ride. The pair proved a strong combination in 2013 joining forces to take out the Galleywood Hurdle, Jack Dow Memorial and Grand National Hurdle.
The J.J. Houlahan Jumps Championship celebrates the champion jumps horse, trainer and jockey who each accumulate the most points from 18 feature jumps races. The feature jumps races will be run between March and July across Victoria and South Australia and each race carries minimum prize money of $100,000.
The Ciaron Maher trained Bashboy was the leading horse of 2013, while Smerdon led the trainer category and Pateman, a winner of nine of the 18 races contested, was a clear winner in the riders section.
The jump season encompasses 70 races split between 45 hurdle and 25 steeplechases. Additional races are run in South Australia including the famous Oakbank Carnival at Easter.
Currently 65 horses are qualified for the season, 49 for hurdles and 16 for steeplechasing.
Article courtesy of Racing Victoria website