FREEDMAN DELIVERS AGAIN
Jun 03, 2019
It was another successful week, with our two winners coming from the Mitch Freedman stable - Ransom Money and Captain Harry.
Mitch and his team have produced some outstanding results with former Darren Weir horses, which includes four wins and six placings from 21 starters.
Generally you would say getting Weir horses to your stable automatically means winning results, but it certainly wasn't the case with the half a dozen Mitch had lumped on him in the space of a week in early February.
His thorough research of each horse and patience and placement shows up the good qualities of horsemanship Mitch has.
But the thrills didn't stop there.
For apprentice jockey, Jessica Eaton it was her first wins for ATB after only a handful of rides.
On Monday, RANSOM MONEY completed his journey back from a tendon injury with a strong win on the new poly-track at Ballarat.
After a nice run in transit back off the pace, Jess was able to gradually bring him to the outside before the home turn without losing any momentum.
From that point, while it was a narrow win, he always looked to have his opposition covered.
Plenty of people have been involved in his rehab, Mitch and his team putting the final touches on what is now a rewarding journey.
And finally congratulations to his patient owners AM Marshall, OM Marshall, Coronet Racing, M Newman, DA Cassells, A Sultana, DW Spicer, Wise Racing, HT Hill, J Macdonald, Mrs SH Newnham, hopefully we get another winning result soon.
The following day CAPTAIN HARRY (below) once again showed us his love for wet tracks with a narrow but strong win at Hamilton.
Similarly to his previous win at Donald over the same distance, he settled back in the field, before finishing strongly for his fourth career win.
Again it was a patient and polished ride by Jess, and astute placement by Mitch.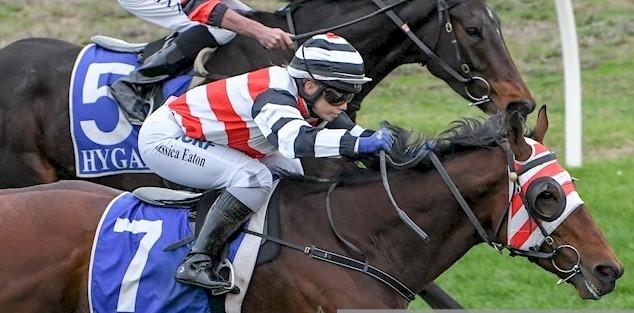 Similarly to Ransom Money, the engagement of Jess to ride with the 1.5kg apprentice's claim was important in the narrow win.
Congratulations to his owners Bungan Street Thoroughbreds Pty Ltd, AM Marshall, The Scoops & Crow Family.
And a special mention to Andrew Marshall who is a part-owner in both winners this week.
If you would like to get involved in racehorse syndication please contact Darren on 0417 616 666 or Peter on 0428 378 049.
To view our racehorse shares available page click here.