Horse Management Bears Fruit
May 17, 2019
Up until recently we had experienced a long dry summer that had worked itself into Autumn with very little or no rain.
The countryside was baron and at Darren & Liz Dance's farm it meant more feed had to be purchased than that of a regular season.
It also meant our racetracks were generally very firm right across the state.
For some of our racehorses that were campaigning for Winter racing it meant delayed starts.
Three horses that have all won in recent weeks, were part of a plan that halted their normal training until the rains come.
Whitemore (Robbie Griffiths) above, Connery ( Archie Alexander) and Mai Shiny Choice (Matthew Williams) were all given freshen ups or let-ups where they never spelled but enjoyed some training in water-walkers, swimming pools or the beach until the tracks softened.
Robbie sent Whitemore to a farm not far from his stables, Connery went from Archie's stables to Mark Young at Lara, while Matthew made the beach a bigger priority for Mai Shiny Choice with a run at the May Carnival his target.
History now tells us that Connery and Mai Shiny Choice (above) both won the Bool on a softer surface, while Whitemore went back to back at Cranbourne and Bairnsdale on similar ground, including a bog at the latter track.
Connery has also since won at Sandown this week. (Read below).
It shows that caring for and knowing your horses and placing them where you can get results is something ATB and our trainers take pride in.
Well done to all involved, we are proud of everyone's efforts and thank all the owners for their patience.
THE CAPTAIN AND CONNERY SALUTE
Two winners and a number of encouraging runs enabled us to reach 40 winners for the 2018/19 season.
Captain Harry (below) returned to winning form with an easy win on a slow track at Donald last Saturday.
Apprentice, Tom Stockdale rode a patient race along the fence, but was able to get into clear room as they straightened. The 4yo son of Commands relished the ground and strode up to the leaders with 200m to go.
He then ran away for a convincing victory, and looks more than capable of winning again soon.
Congratulations to his owners Bungan Street Thoroughbreds, AM Marshall, The Scoops & Crow Family.
Connery with Craig Williams riding for Archie Alexander made it back to back wins with a runaway victory at Sandown on Wednesday.
Stepping up in class and distance, but down weight, the son of Pierro made light work of his opposition.
Williams had him travelling beautifully about sixth in the running line. When he asked him to work into the race, he did it without having to call on him.
When he did inside the last 150m, he exploded away.
A likely target now is the Swan Hill Cup over 1600m on the Queen's Birthday weekend.
Congratulations to his owners PJ Gallivan, DW Spicer, CP Butcher, Racing As One, PM Stivic, MM Stivic, Boss Bond & Bro, TW Ireland, BL Page, Baileys & Champs, Cheers To Us, Tompin, Mrs A Whittaker, Noumea, TSC Racing, R Giarrusso & A Thorpe.
ATB Upcoming Runners......brought to you by Ladbrokes
Saturday, May 18th:
Flemington - IGNITER
……………………………………………………………………………….
LADBROKES GOLF DAY
Thanks to Des Pinfold, David Roach and Melbourne Storm Rugby League stars Cameron Munster and Joe Stimson for representing ATB at Woodlands for the Ladbrokes Golf Day today.
The photo below was taken as they played the final hole, so we will have the results in next week's Newsletter.
Munster and Stimson would have enjoyed walking out some stiffness after a great come from behind 24 - 22 win against West Tigers at AAMI Park last night.
PHOTO: Des Pinfold is horsing around at the front with Munster (right) and Stimson (left). David Roach (middle) who also works with Melbourne Storm is a part-owner of Crackerjack Lady along with Munster.
Word has it that Des shouldered the load and was a bit tired for the photo.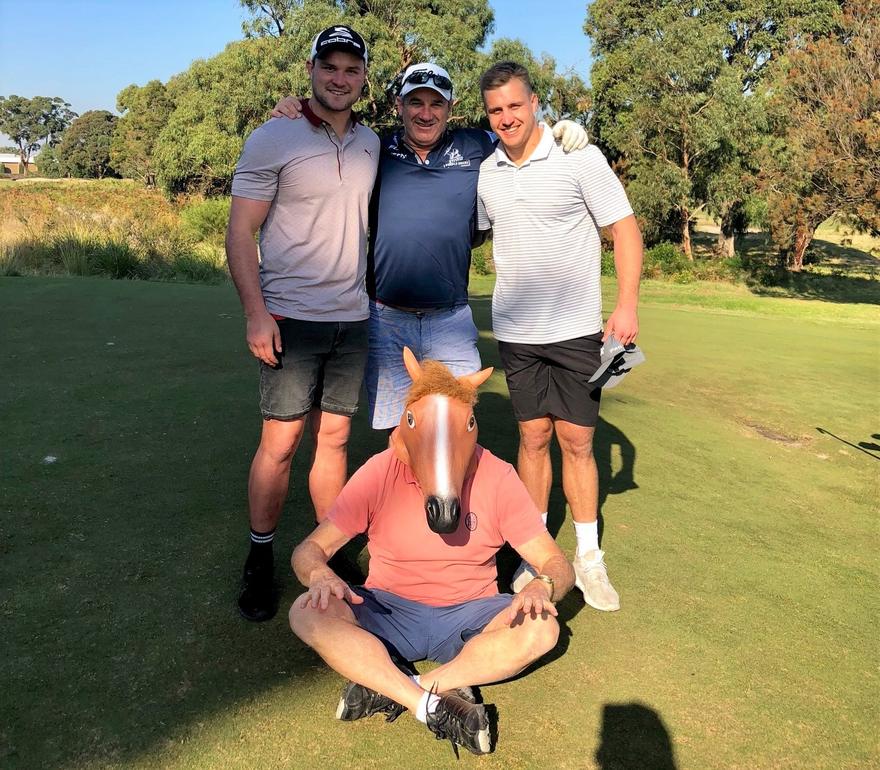 If you would like to join ATB in a race horse syndicate please email peter@atbloodstock.com.au