Yogi's 'journey' heads to Sydney
Mar 26, 2019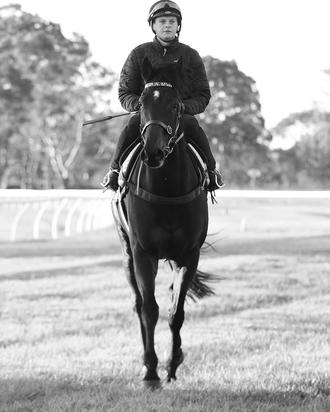 Yogi's rise to the elite staying ranks takes another step on Saturday when the former Kiwi bred galloper runs in the $1.5m Group One Tancred Stakes (WFA) over 2400m at Rosehill.
It will be the final lead-up to his main target on April 13th, the $2m Group One Sydney Cup over 3200m at Royal Randwick.
The 6YO son of Raise The Flag had his final piece of strong work with new trainers, Ciaron Maher & David Eustace today, handling the clockwise gallop as if he has done it all his racing life.
Both trainers are very happy with him as he heads into his Sydney race program.
With the training preparation completed, the next step is the float trip on Thursday night to the stable's base at Warwick Farm.
With three years of racing under his belt, the seasoned galloper should handle the trip with ease, especially with the mild weather.
Under the care of his former trainer Darren Weir, the 'Bear' as we affectionately know him, travelled many a mile across country Victoria for trials and gallops from his base at Warrnambool.
A trip to Adelaide was his only other interstate racing venture, the reward an easy Listed win in the Port Adelaide Cup at Morphettville over 2500m in May last year.
Journey is a word very much part of Yogi's story.
And that journey for Yogi's owners is now starting to bear the fruits from patience and perseverance.
From a six length maiden victory at Riccarton in New Zealand to now racing against some of our best stayers, the rise has been an exciting time for all connected to him in Australia, but also one tinged with sadness when reflecting back on his initial win in New Zealand.
Rebecca Black who rode him twice, including when a runaway Riccarton winner, lost her life exactly ten months later following a race fall at Gore.
She left behind a partner and three young children in tragic circumstances that highlights the dangers for all jockeys.
Hopefully her family have been able to follow Yogi's journey since, one she played her part in.
The Riccarton win sent alarm bells ringing for our New Zealand on ground scout, Mike Rennie.
A phone call to Darren Dance quickly turned into negotiations and before we knew it a deal was done, owners were on board and the horse was heading across the Tasman to trainer Darren Weir.
A small negotiating hiccup was overcome after a caffeine irregularity meant the February 19th, 2016 victory was stripped from his old trainer Melville Coles.
Not only had Coles lost his best horse, he lost the only race he won with him too.
Yogi's ATB owners had to wait until October 24th for his next race start, but with the NZ maiden win stripped, it meant he could again tackle that class at Benalla over 1400m.
The racing traits we are all accustomed to now, were on show back then as well when winning - get back, storm home!
Jack Hill did his initial race riding and while he isn't part of the journey now, Jack played his role which included a victory at Sandown two starts later.
Yogi's first race preparation showed us we at the least had a handy city class galloper.
After a good spell, more city wins at Sandown and Flemington during the winter of 2017 showed us his liking for big tracks, but his racing style also meant we left a couple of wins out on the track - it was something we just had to get used to.
It was during this preparation that Craig William's association started with the horse, one that continues right through to today.
Craig takes the ride in Saturday's Tancred and all going well will be on him in the Sydney Cup.
Two huge steps towards where we are today were achieved during this preparation.
A 2500m victory at Flemington with John Allen aboard showed us he could stay, while he also measured up okay in the Listed JRA Trophy
when beaten just over three lengths behind the 2016 Melbourne Cup winner Almandin.
As an inexperienced stayer at that level, our hopes were buoyed if he could continue to improve from the dozen or so starts he'd had in Australia.
With our eyes set on the dream of a Melbourne Cup start in 2018, we had to map out a plan to get his rating up with a short Autumn campaign based around the Warrnambool Cup, especially knowing his liking for softer tracks.
Yogi went within a whisker of defeating Gallic Chieftain in the Cup off a three start preparation and while disappointing, it did show us how quickly he does come to hand for a stayer.
The sour taste of that loss was quickly forgotten with his easy Port Adelaide Cup win just over a fortnight later.
With his rating points now up to 93, we were within striking distance of where we needed to be to challenge for a Melbourne Cup spot.
Another win during the lead-up to the Cup and we were a chance of making the field.
Unfortunately things didn't go our way with 'throws at the stumps' in the Geelong Cup and Hotham Handicap seeing the horse run well, but against the pattern on the day.
The burning desire to use blinkers was also there for Darren Weir, but he stuck true to his thoughts of one good crack with them in the Cup if he got the chance.
Blinkers are not a guarantee to work, conditions need to suit and a targeted race can sometimes come undone if the horse resents them, especially over staying trips.
In hindsight you do wonder if they would have made much difference the way the Geelong Cup and Hotham were ran on fast tracks suited to on-speed horses.
The positive we did get out of this situation was having them on for the Sandown Cup, his first go at 3200m.
As we all know it worked out beautifully.
And another box was ticked off, his barnstorming finish showing two miles was not an issue at all.
The jigsaw pieces were coming together and this win elevated him beyond 100 rating points for the first time.
Discussions with the stable were now based around which Autumn Cup to tackle - Adelaide or Sydney?
Adelaide was by far the easiest option, but Sydney was the go for three main reasons - it meant a longer spell, a better program to the race and also the chance of wet tracks - you could throw in the fourth reason of $2m on offer as well.
Yogi spelled at Darren Weir's Maldon farm, a working holiday you could call it.
Because of the tight timeframe, Weir didn't want him totally out of training, but also mindful that he needed to have a break of sorts as well.
After a fortnight doing little but relaxing with the likes of Black Heart Bart and Prince Of Penzance, his remaining 'spelling days' were a mixture of swimming and some slow sand track gallops.
This intensified as January came along, where a trial followed by two or three strong gallops quickly had him ready to race as we headed towards February.
Darren Weir right up until his suspension maintains the farm and the associated benefits were the icing on the cake as this horse continued to peak in maturity as a racehorse.
Less stress on some battled scarred legs was also a huge factor in having him nice and fresh again.
Yogi's racing style meant plenty of maintenance and care was needed to keep his legs in good shape.
On reflection, it is now easy to understand Weir's bullish thoughts that the horse had improved once again - his impressive first-up win at Caulfield on February 9th, vindicated that.
Any horse Weir matched Yogi up with on the training track, he galloped as well as, if not better.
Trap For Fools trained by Jarrod McLean was one regular sparring partner in gallops and you only have to look at his impressive Spring to understand how well Yogi was going.
Thankfully the Maher & Eustace team have taken on board all that is needed to keep the 'Bear' happy with the Tyabb beach and intermittent track gallops all that is needed to keep him in great race shape.
The Australian Cup run showed that.
In reality that was one of his best runs considering the big disadvantage he had at weight for age. Racing at level weights against some of our best WFA horses and giving them all a start made his effort enormous to beaten around three lengths.
'Experts' were all of a sudden factoring him in as a genuine Sydney Cup hope, considering his drop back to 52kg for that race.
Thankfully the dream of winning the Cup and knowing that path well before the public meant plenty of owners and close-by followers grabbed the juicy early odds on offer.
While we have the same weight for age scenario on Saturday in the Tancred, the softer track, the experience of a run at this weight scale, an inferior race depth-wise compared to the Australian Cup, and over the more suitable trip of 2400m, suggests he should run very well.
The only small negative after watching Rosehill racing last week, was the failure of horses to be running on from too far back.
But the rail does go out a further three metres this week, so hopefully with a slightly better racing surface, backmarkers can get into the race out past the middle of the track.
Whatever unfolds, we just want the 'Bear' charging to the post and coming out of the race ready for his Grand Final on April 13th.
Hopefully that's the day his 'journey' turns into one hell of a picnic!
Go Bear!
Horse racing syndicates are the way to go for family and friends and with ATB we strive to mix socialising while enjoying that winning feeling.
Contact Peter 0428 378 049 or Darren 0417 616 666 if you wish to get involved with the team that races with you!
Article: Peter Morganti